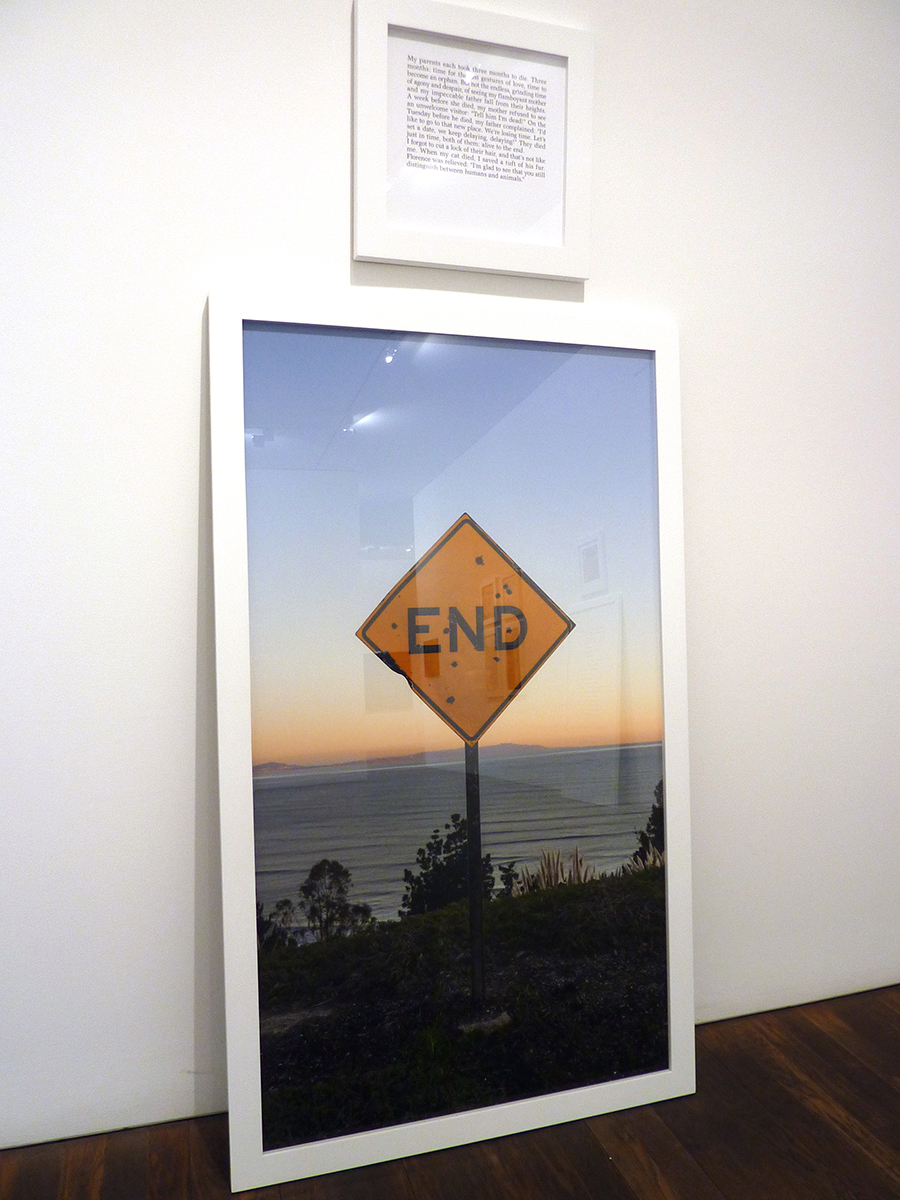 Sophie Calle from 'My mother, my cat, my father, in that order' 2017
Sophie Calle's exhibition* in the Deutsche Börse Photography Foundation Prize 2017 is a selection of works entitled My mother, my cat, my father, in that order. It comprises a series of photographs and short passages of text, all mounted in sleek white frames and either hung on, or propped against, the wall of the gallery. Calle recalls the everyday minutiae surrounding the death of each of those named in the title, in a way that is businesslike and yet poignant.
The entry in her mother's diary noting the death of her mother, Calle's grandmother, is starkly presented before Calle's own diary entry, twenty years later, recording in turn her own mother's death. This is followed by the brutal observation that nobody will remember her in that way. It is a beautifully straightforward way of alluding to the sobering suspicion of anyone who isn't a parent that they will somehow not be remembered; that their life won't matter to anyone and nor will their death.
Caught up in loss and grief we can lose perspective and focus instead on incongruous details. Calle's recollection that a friend asked her to pick up some leeks in the same message in which they expressed condolence for her loss of her cat elicits a wry smile.
She describes the time when her father was dying and how she wanted to believe his last words would be meaningful. When he said 'petrol' one day, she was convinced he would live through the night because petrol is too ugly a word with which to end one's life. Two things can be absolutely unconnected but we often create conditional links in our mind to fool ourselves that we have control over an uncontrollable situation. We cannot control the agony and guilt of waiting for a loved one to die and this is perfectly and yet comically summed up in Calle's fixation upon the last word her father would speak.
The final piece in the series is a photograph of a road sign at a cliff edge. Between cliff edge and horizon stretches a calm, gently rippling sea. Above the horizon is the golden glow of a fading sunset, deepening into a clear azure sky at the top of the photograph. The yellow diamond-shaped sign is rather bent and battered, and its message 'END' is pock-marked with what appear to be multiple bullet holes. The sign sits on a short pole and the juncture of sign and pole is perfectly in line with the horizon, which bisects the image.
The juxtaposition of the worn sign and its blunt message with the otherwise calm vista speaks to me of conflicting emotions of grief – the release and freedom of eventual loss combined with the utter wrenching pain of those last moments.
One of my companions told me they did not like Calle's exhibition. They thought it was too personal and that grieving in this way should be done in private. Whilst many of us would struggle to share the details of such private thoughts and moments, I think she was very brave to do so. C.S. Lewis said, 'we read to know we are not alone'. I think the same can be said of art. We look at art to know someone else sees the world as we do, that they feel the world as we do, and that they too sometimes suffer as we do.
Sonya Bones
*although she was in fact nominated for a set of postcards in photobook form entitled 'My all'